Patios Brisbane! As a Stratco Patios specialist, Adaptit bring your Outdoor Patio Entertaining ideas to life.
Watch us Design and Build Patios
Recent Patios Projects
Our Patios range has a number of unique patio roof styles available in both insulated panel or single metal profiled roofing to enable your outdoor patio entertainment dream to come to life and still keep your budget in mind. With the help of our 3D design software we can help you adapt your outdoor living areas and incorporate a functional and stylish patio roof for you to enjoy entertaining under. We can provide a visually stylish fully customised patio roof structure utilising individual or combinations of flat, Gabled, Hip & or curved roof designs with the latest roofing products. Our main discussion topic when designing patios, is water, both storm-water flow and waterproofing. Expect our design team to spend time discussing your options for house storm-water connection, and also weather protection if it rains during your next barbecue. Nobody wants an outdoor space/room to be heavily affected by the average storm.
Why not customise your outdoor living area with add ons and accessories?
Accessories and add-ons are an important part of your patio design. These are the finishing touches that can set your outdoor living area apart from the masses. Just like getting your windows tinted or adding in optional extras to improve the look of your car we can talk to you about customising your outdoor living area to perhaps minimise afternoon sun, or provide privacy in certain areas. Why not incorporate custom LED lighting, fans and heating strips for your comfort. We can help to identify these signature features required, and make them come to life in 3-d, before any decisions are made.
Timber or powder coated aluminium privacy screens
Laser cut powder coated screens
Fabric blinds to block out sun
LED Down lights
Beam fixed Strip heaters
Kwila timber posts and beams
Frameless & semi frameless glass balustrading systems
Stainless Steel wire Balustrading systems
Roof lites and light boxes to allow in natural light
Customised cladding panels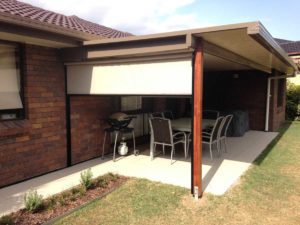 Here's What Our Happy Customers Have To Say
We were very pleased with the way the new patio works when we hosted a large family gathering at Christmas. The additional area and the bright open structure created a totally different atmosphere - altogether a great result!
Michael and Jennifer
Again the guys are fabulous people for your business, can't say a bad word.
Pat & Phil
We are very pleased with the lights as we feel they finish off a beautiful patio with our new roof and new pavers.
David
I just wanted to say thank you for a brilliant patio, it has been a pleasure dealing with Adaptit group from management through to your staff onsite.
Jason and Hayley
The patio has exceeded our expectations - I can't wait to get the floor tiled, and to do all the finishing touches.
Phoebe and Leon
His workmanship on this job is of a high standard and we are very happy with Adaptit overall.
Mike & Carolyn – Albany Creek
Thanks for all of your help Adaptit Group. Our new patio looks great.
Glenn & Leanne