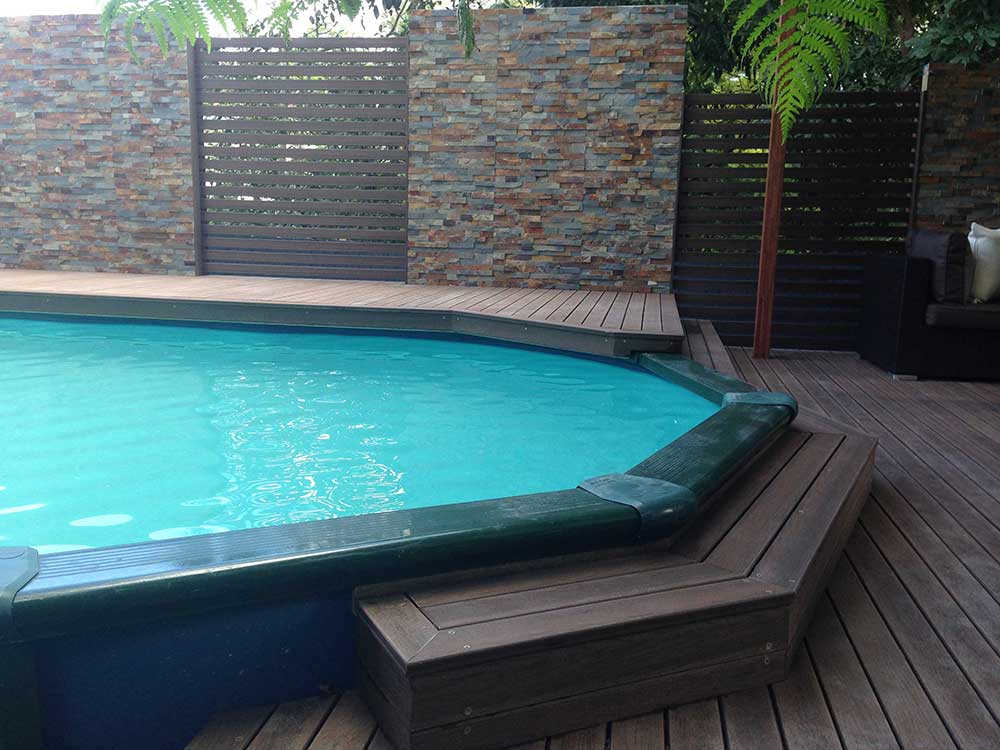 Above Ground Pool gets a Facelift. Amazing Modwood Deck by Adaptit!
Amazing Modwood Deck Want to see one of the most amazing above ground pool transformations ever!! Well look no further. This home in Seventeen Mile Rocks, West of Brisbane, needed a solution to it's problem. The home owner couldn't get into his pool without walking down to the bottom floor of the house, out into the backyard, and climbing a...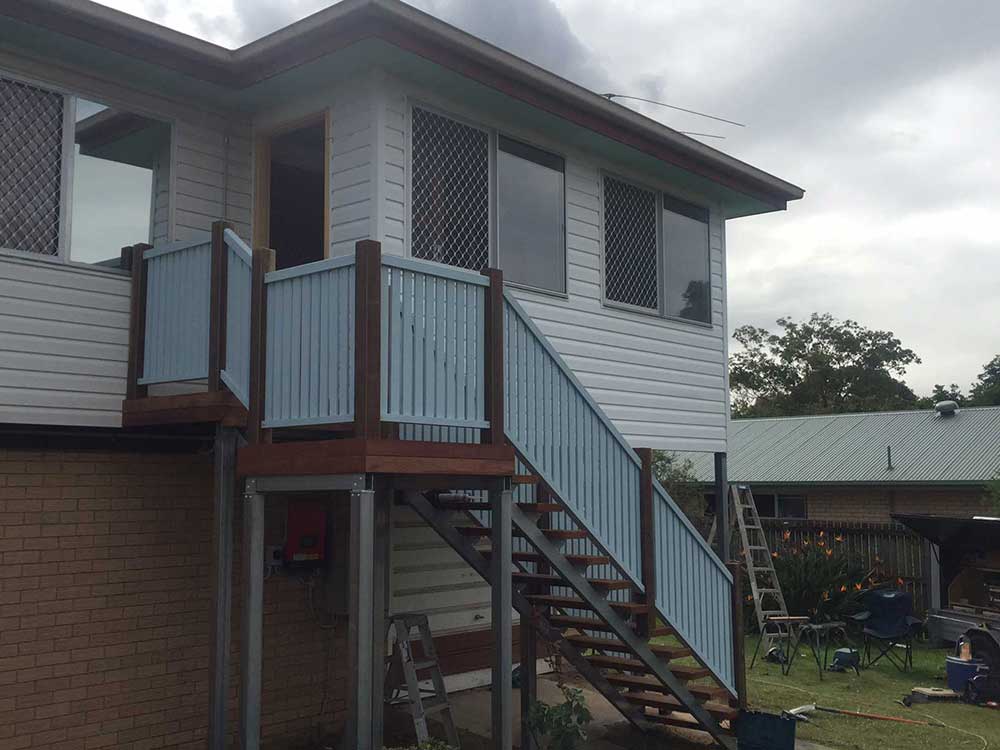 Front Verandah gets a 'much needed' change. Thanks Adaptit!
We were contacted by a family in Slacks Creek, Brisbane, that were very concerned about the state of their front verandah. The posts supporting the old verandah were in desperate need of replacement and the flooring was well past it's use-by-date. The home-owners decided that if they were going to replace the existing verandah, then why not do something they...
Brisbane City Views!! Kwila Deck & Insulated Patio Roof in Holland Park
This new Deck and Roof in Holland Park is an amazing example of Adaptit's commitment to quality. The owners of this home are renovating an existing deck that was a long way past it's use-by-date. To do this we demolished the existing deck and replaced it with a new one, 1.5 times larger!! With 180 degree views to our awesome...
Adaptit's designer Chris is a 3-d Patio Expert!!
Adaptit's resident 3-d design expert has been hard at it!! Check out his latest designs created for our clients homes over the last 30 days. Keep watching this site as these projects come to 'Real Life' over the next few months. Awesome work Chris!!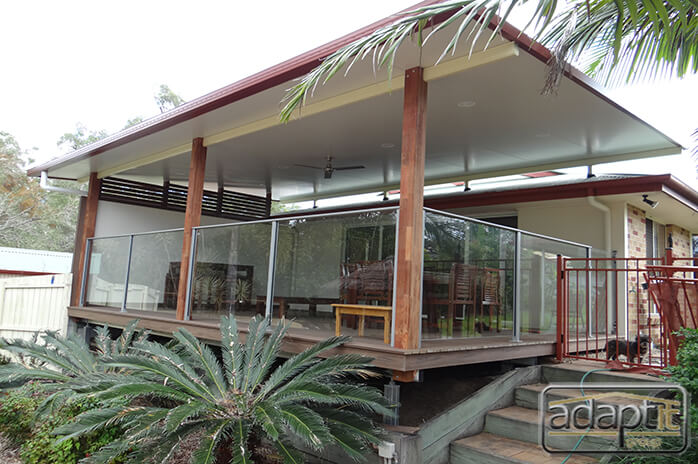 Forest Lake "OASIS"!
This backyard in Forest Lake has gone from 'fairly basic' to 'OASIS' in a matter of weeks!! The owner came to Adaptit with one request....."Build me a deck that puts me in a Tropical Resort!" Ryan designed this deck with Flyover Roof in 3-D and the home owner loved what he saw on our Design Software. The deck consists of...
Side by Side Renovations
Side by Side Renovations!! These 2 Gailes properties were heavily affected by the 2011 floods and needed the decks replaced. The home owners contacted Adaptit about quotes and the rest is history. We had a large amount of demolition required and we filled a few massive skips. Both homes chose the RHS frame with Kwila decking. The handrails are all...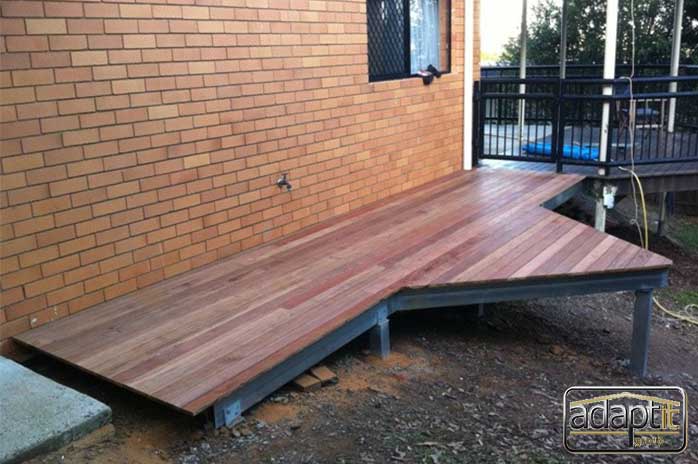 Small Deck in Tarragindi
This small deck in Tarragindi was constructed to link an existing deck with a new fully landscaped backyard. The owners of the property did a full backyard makeover and Adaptit was proud to supply the small deck to link the House with the new property feature.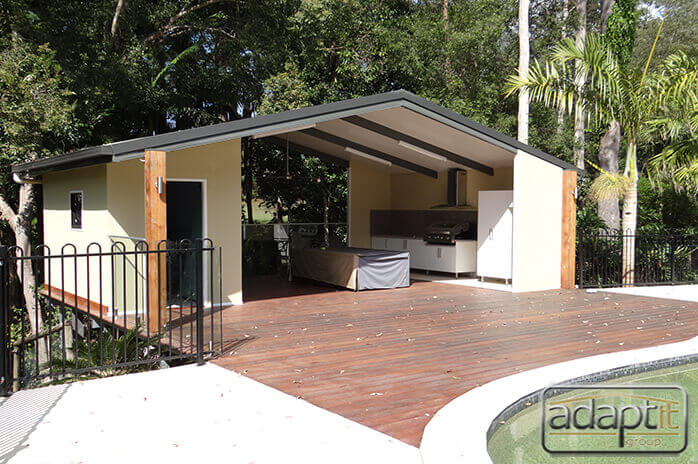 Pool Deck & Patio in Bunya
This Pool Deck & Patio is in Bunya, Brisbane. The Home Owner, Gavin, helped us Design a Gable Patio over new Pool Deck. The Roofing material utilised is Trimdeck Insulated Panel. The Deck consists of an RHS Frame, Kwila Flooring. Build Time - 3 weeks. Products supplied - Insulated Gable Patio, Kwila Deck, 200x200 Kwila Posts, Concrete, Toilet/Shower Room, Blueboard...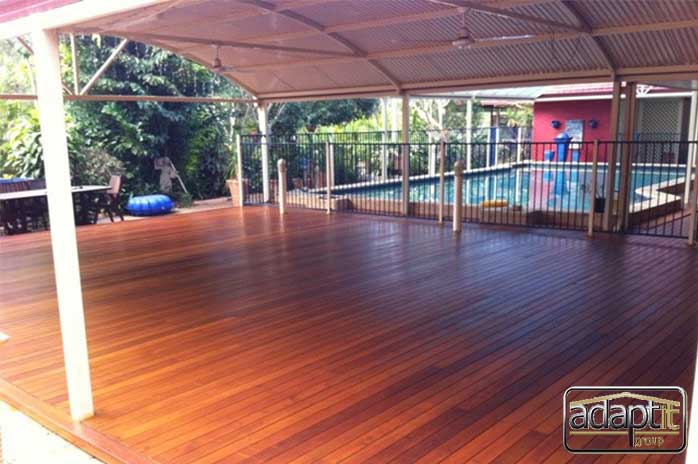 Ground level Deck in North Ipswich
This Ground level Deck is in North Ipswich. The home owner, Shirley, had to solve a problem with an old concrete slab around their pool. This ground level deck was done in Kwila decking and treated Hardwood for the framing.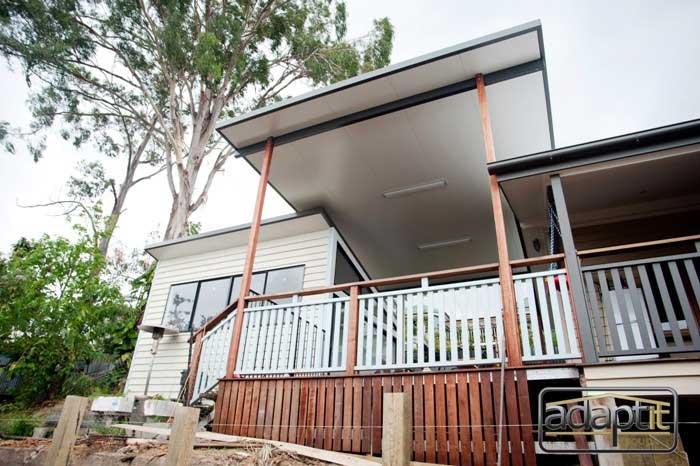 Deck, Patio & Art Studio in Kelvin Grove
This Deck, Patio & Art Studio is in Kelvin Grove, Brisbane. The Home Owner, Joel, helped us Design this Art Studio Room, Deck & Flyover Patio. The Roofing material used is Cooldek Insulated Panel. The Flooring is all RHS Steel Frame, Kwila Flooring (open section), Yellow Tongue Flooring (Studio). Build Time was 3 weeks. Products supplied - Insulated Patio, Kwila...