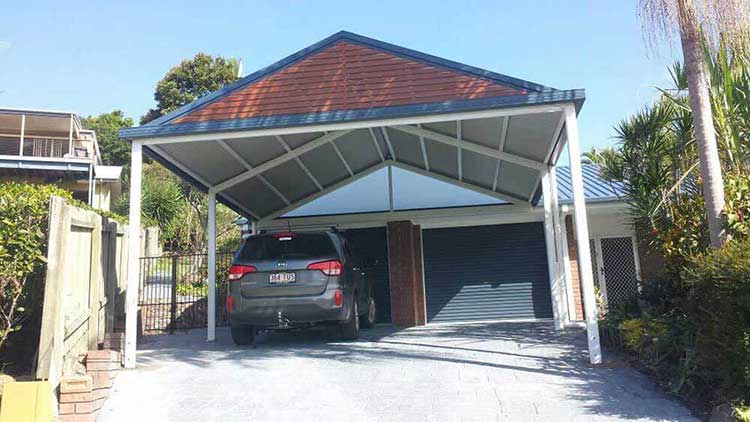 Sunshine Coast property gets a new Carport
What a difference a carport makes to a property!! This house in Buderim was in desperate need of a covered parking space for cars. The family needed the Garage space to be converted to more entertaining/living space and the cars had to go somewhere. Enter Adaptit Group.....we arrived on site to a blank slate, and proceeded to create an amazing...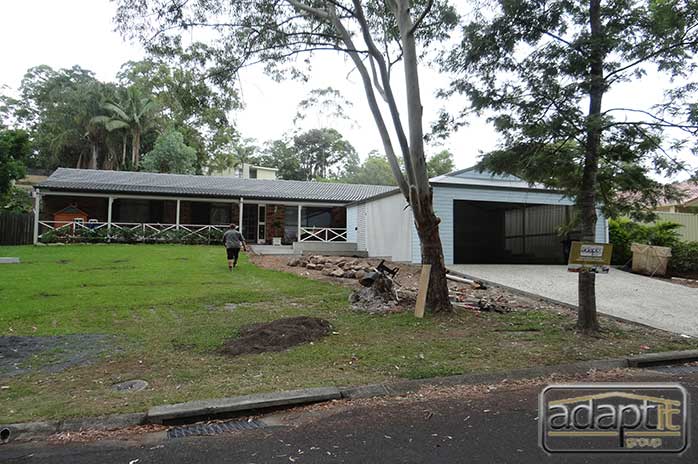 Fig Tree Pocket – Transformed!!
What a difference a New Carport, Lounge room, Pool and outdoor Patio area can make to a property!! We were contacted by this family to design and price up some changes that they were looking to make. They had commissioned an architect to design the concept and had received quotes from builders based on the plans created. These quotes were...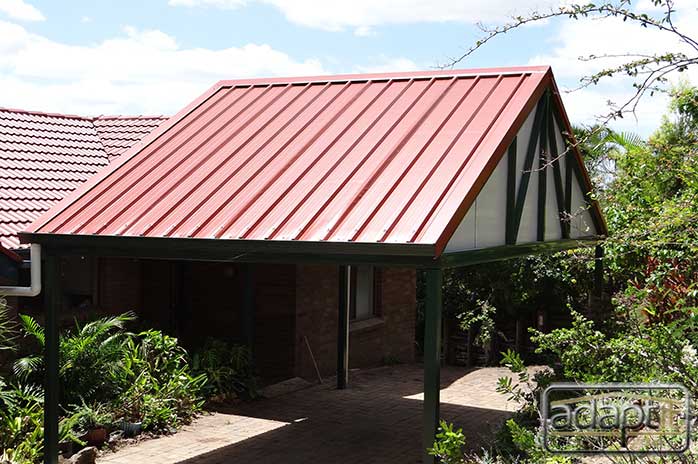 Mount Ommaney Carport changes this house forever!!
Adaptit Group were asked by the owners of this property to design and install a carport that matches their home. However they didn't want to go down the road of building a tiled roof carport on brick pillars to match the house due to the costs involved. Utilising Stratco's Multi Span system, we designed the 6m x 4m carport to...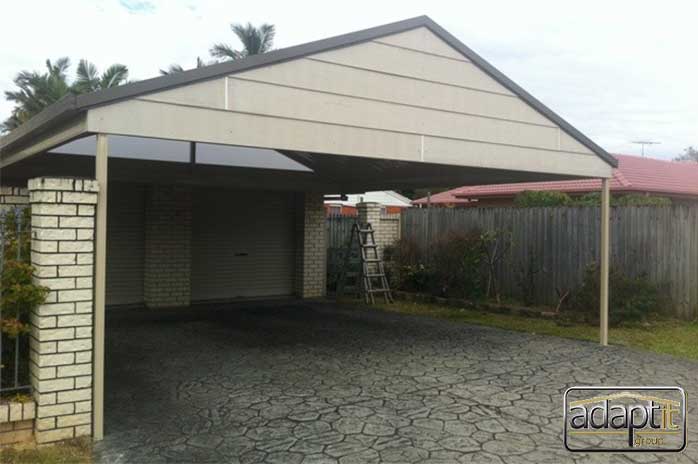 Gable Carport in MacGregor
This Gable Carport is in MacGregor, Brisbane. The owner, Kumaran, was in need of a stylish carport to finish his glorious 2 Storey home. The Adaptit boys designed then built this High Gloss Steel gable carport right to the road Boundary. The front infill is weatherboard, while the rear infill is a translucent Polycarbonate. We looked after the Council Approval...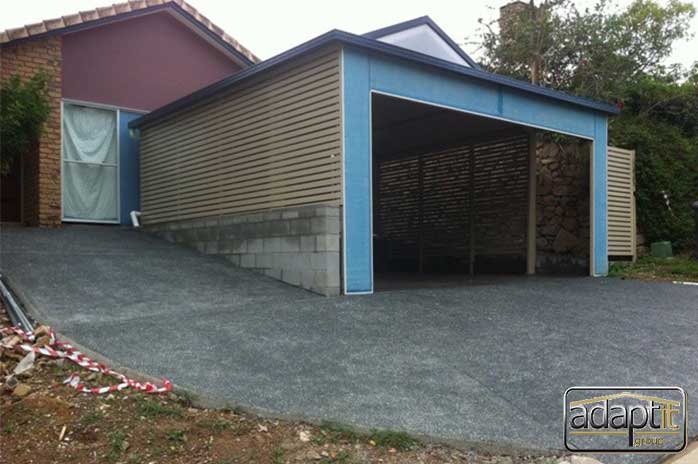 Dutch Gable Carport in Fig Tree Pocket
Fig Tree Pocket is the location for this Carport and Driveway project recently built by the Adaptit Boys. We had to dig into the existing driveway to create a flat parking surface. This made the height of the carport lower than the house floor. This reduced the impact of the carport at the street front, and coupled with the Dutch...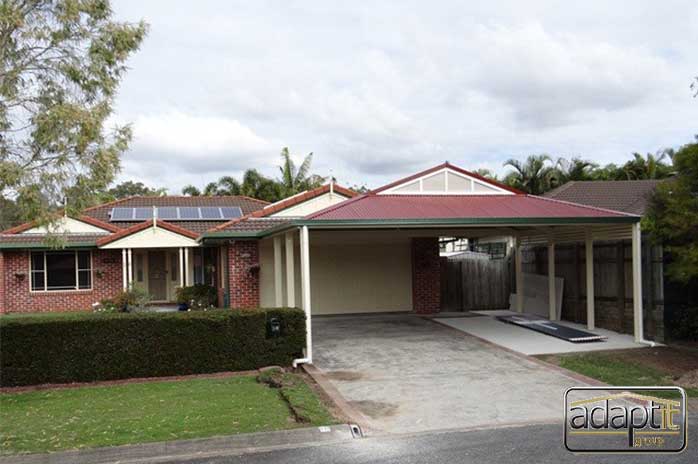 Dutch Gable Carport in Alexandra Hills
This Dutch Gable Carport is in Alexandra Hills, Brisbane. The owner, Leanne, was very excited after seeing her idea of an 8m wide carport in our 3-D Experience. After gaining Council Approval the Adaptit Boys went about constructing this monster Carport. 8m wide and almost 4m high at the peak, this carport is the envy of the street. We utilised...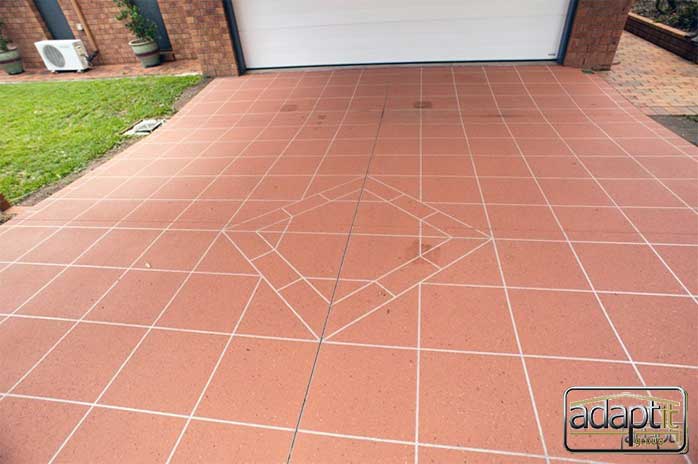 Driveways
We also provide a wide range of covercrete and concrete solutions. Ask one of our awesome staff to help you organise your next concreting project.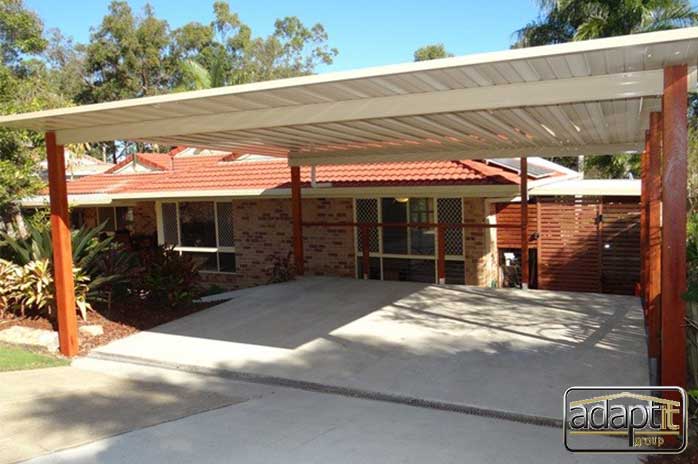 Carport in Westlake
This Carport is in Westlake, Brisbane. The Home Owner, Glenn, already had many of his ideas sorted before he called Adaptit. All we had to do was build this carport at his house. We utilised the Insulated Panel for the small front patio, and High Gloss Sheeting was used for the Pool Patio and Double Carport. The Posts have been...
Carport in Sinnamon Park
This Carport is in Sinnamon Park, Brisbane. Being only 6m x 3m, this would only be suitable for one car. Kathy, the home owner, used to have to park in the sun and every summer things were hotter. Not any more!! Thanks Adaptit.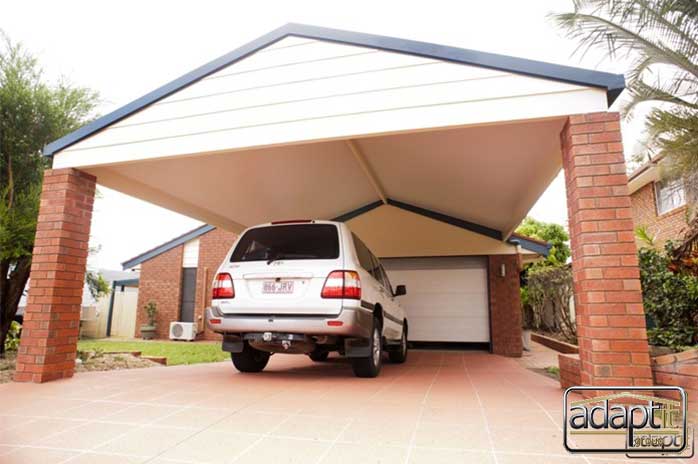 Carport in Runcorn
This new Carport is in Runcorn. The Home Owner, Geoff, helped us design this Gable Roof & new driveway at the front of the House. The Roofing utilised is the Trimdeck Insulated Panel. Our Frame System is Slimline Engineering. Build Time - 8 days. Products supplied - Carport, Weatherboard Infill, Brick Pillars, Concrete Slab, Covercrete coating.