Watch us Design and Build Carports
Recent Carport Projects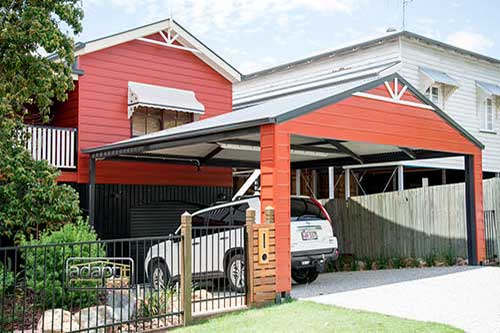 Matching the front of your house is paramount when designing your new carport. All colourbond roofing colours are available, and the front infills can be clad to match any house wall designs. Click here for our latest designs.
Read More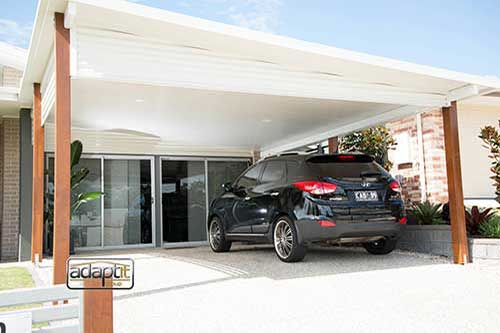 When a property is on the high side of the street, a flat roof extending from the soffit is generally the best option. Support posts can be changed to match existing house features and colours, or even surrounded with brick pillars. Check out our latest designs here.
Read More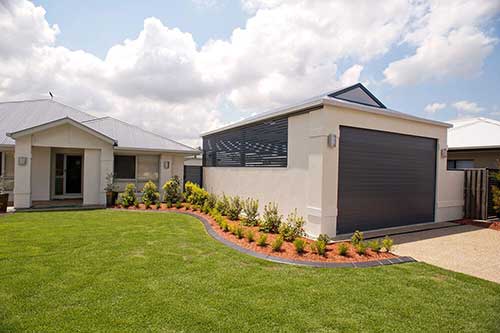 One of the more intriguing roof designs is a Dutch Gable. This can often be a softer appearance than a full gable, and still match house triangle infills on a smaller, less obtrusive scale. Click here to see our latest designs.
Read More
Every carport is different, because every house is different. Click here to see our latest design options available.
Our Brisbane Carports Add Value To Your Home
Every Australian home needs an undercover, secure area for car parking and vehicle storage. Most homes incorporate the carport space into the original house floor design. However, as the trend to reduce home & block sizes continues, homeowners are reclaiming their garage space for living and storage. This will leave the cars unprotected from the elements, and in the Queensland storms and heat, this is not smart. Designed correctly, a front carport will not only protect your vehicles but should also provide an increased road presence for your property. Carports can make your home seem larger (from the first impressions at the road) and more prominent, which can only mean a better property valuation.
A council-approved carport/ boat port can be a large investment, therefore it is important that the correct decision is made with respect to design, placement and material selection. Our qualified design team will help select the correct space for your carport, consult with Council on distances allowed to boundary lines and decide whether 1 or 2 car spaces are allowed. Once this 'footprint' decision is made, we can then discuss the shape of the roof so the new structure blends into and complements the existing house.
3 Key Things to Consider When Designing Your Carport
With our extensive building knowledge and experience we have highlighted 3 key things you need to keep in mind when designing your carport.
Positioning of the carport on your property… unfortunately you can't just place your carport anywhere on your property, we will guide you through the design process to take into account council regulations, stormwater access, driveway access for vehicles and most importantly how the look of your street frontage will be affected by the carport position. Our friendly design team will assist you to provide the correct design encompassing all these important factors.
Size and style of Carport you require… our design team can assist you in working out the correct size for your vehicle storage structure. We need to discuss exact post positioning so you can park, open doors, and access your vehicle easily at all times. Clearance heights for your vehicles are also very important, and every families requirements differ.   Needless to say 2.2-2.3m is a height that allows all standard and 4wd vehicles easy access.  With a number of different styles available to you our designers will help you work out which structure is going to work best with the look of your house.  With Gable, flat roof, Dutch Gable, Hip or curved roof designs available, we can ensure you are fully covered in style.
Privacy Screens & Sun shades… Once the roof design and floor space have been created, we will be looking to discuss any requirements for the open wall spaces. You may need privacy on one side only, or a roller door on the front.  Our Queensland sun and weather can still sneak in under the roof design at times, so aluminium or timber slats, solid walling and blinds can all be included for your carport solution.
What Carport Roof styles are available?
Pitched style carports for increased clearance height…
We would recommend using a gable or curved roof structure, with an increased ridge height, to provide adequate clearance for your boat or caravan. Utilising coloured side beams and coloured rafters a pitched gable or curved roof structure will provide ample clearance and also improve the look of your house from the road. With roofing options available in corrugated and clear span style with coloured support purlins, you can rest assured that we have products to suit your home.
Carport Designs Tailored For Your Budget
Flat roof carports for affordability and a streamlined look….
For the budget conscious consumer, the flat skillion carport will be the best option. Whether we attach the new carport to the house fascia, or build it freestanding, the skillion design will deliver significant costs savings over the pitched roof designs. With the flat roof design, the focus will be more on the posts material/wall solutions selected, because the roof will blend in with your existing house gutter line. We often suggest brick pillars (to match house bricks) on flat carport posts for that blended look.
Hip & Dutch Gable style Carports for a colonial & heritage appearance…
We can match any house roof design you have. Dutch Gables and Hip Gables can be designed to complement your home, colour wise, as well as overall appearance. We can match your dutch gable fibro infills, along with gutter, roofing and flashing colours. Even if your home is painted timber…..our powdercoated steel solutions will match your home perfectly, and stand the test of time.
What roofing profiles are available on your carports?
Whether you are looking to match in with your existing house roof profile or are looking for a streamlined flat ceiling look there is a roofing profile available for your carport at Adaptit Group. We can supply our carports with any of the following roofing profile styles.
Colorbond Corrugated Carport roofing (wavy top) – this is available in 3 x double sided colours and also available in 22 Single sided colours.
Outback Deck Roofing – Originally designed for use on patios this stylish flat ceiling profiled sheet is now the preferred carport roofing profile and one of the most popular. With a deep pan profile it will easily handle most South East Queensland weather events. This roof sheet comes available in 3 double sided colours.
Cooldeck Insulated Roofing – This roofing profile provides insulation from both heat and noise and is fast becoming one of the most popular profiles for use on patios and carports. Available with corrugated or trimdek profiled roof to the top and smooth, silkline or vline to the ceiling it offers the most flexibility in design. This sheeting is available in 11 topside colours and 4 underside colours.

Here's What Our Happy Customers Have To Say
We were very pleased with the way the new patio works when we hosted a large family gathering at Christmas. The additional area and the bright open structure created a totally different atmosphere - altogether a great result!
Michael and Jennifer
Again the guys are fabulous people for your business, can't say a bad word.
Pat & Phil
We are very pleased with the lights as we feel they finish off a beautiful patio with our new roof and new pavers.
David
I just wanted to say thank you for a brilliant patio, it has been a pleasure dealing with Adaptit group from management through to your staff onsite.
Jason and Hayley
The patio has exceeded our expectations - I can't wait to get the floor tiled, and to do all the finishing touches.
Phoebe and Leon
His workmanship on this job is of a high standard and we are very happy with Adaptit overall.
Mike & Carolyn – Albany Creek
Thanks for all of your help Adaptit Group. Our new patio looks great.
Glenn & Leanne