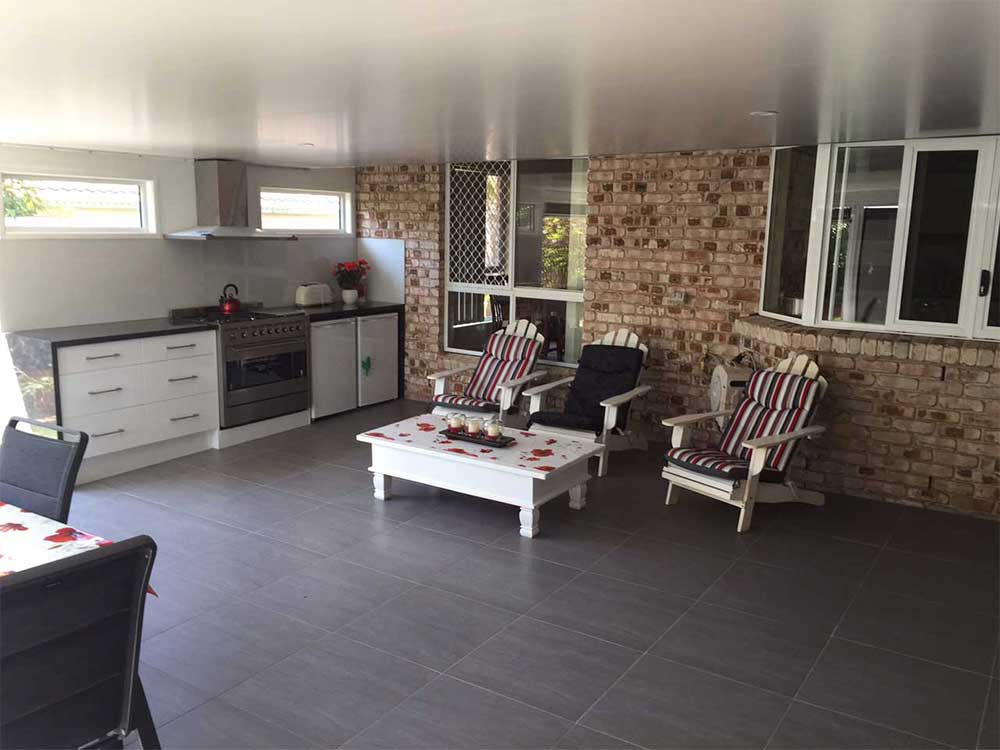 Amazing Patio Transformation in Springfield. Outdoor kitchen required!!
These Springfield clients came to Adaptit at the start of the year and expressed their desire to revamp their patio area and incorporate an outdoor kitchen patio area. Ryan set about designing their vision with our amazing 3-d software over the next 1-2 weeks. After a few visits to site, to alter the design slightly, our valued clients settled on...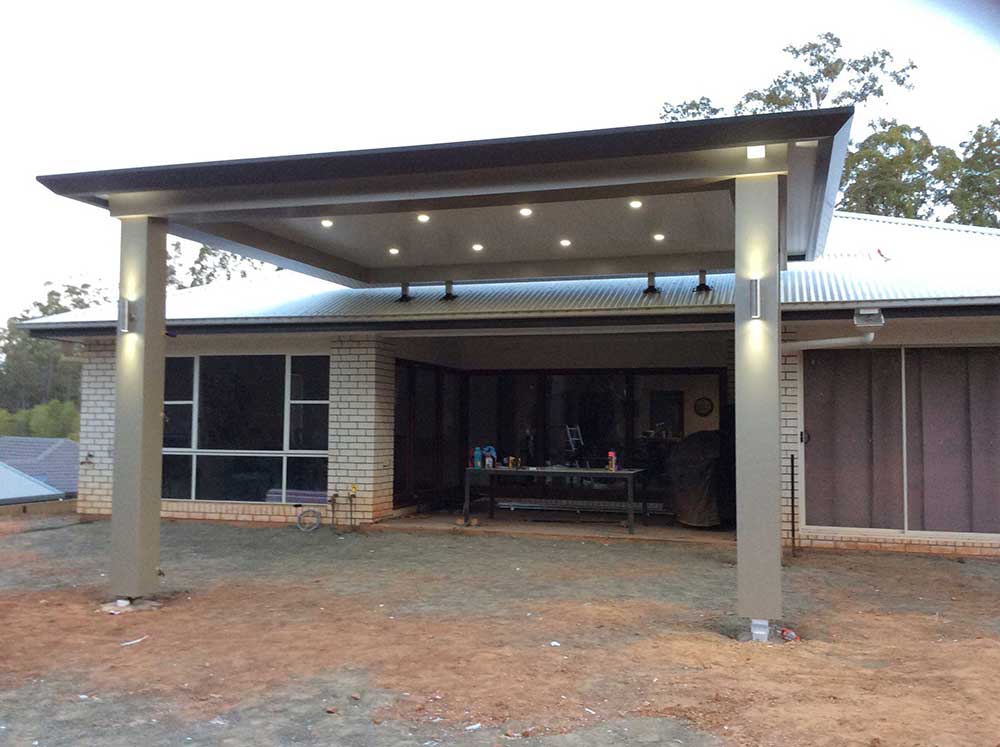 Adaptit build the first Queensland Stratco Pavilion!
Adaptit build the first ever Stratco Pavilion in Queensland. This is the new age of patios for Australia. Developed by Stratco, the 'Pavilion' will change the way you look at your outdoor areas forever. Gone are the days where a Patio looks like it was just 'plonked' on the side of the house. Stratco's Pavilion design incorporates a clean roof...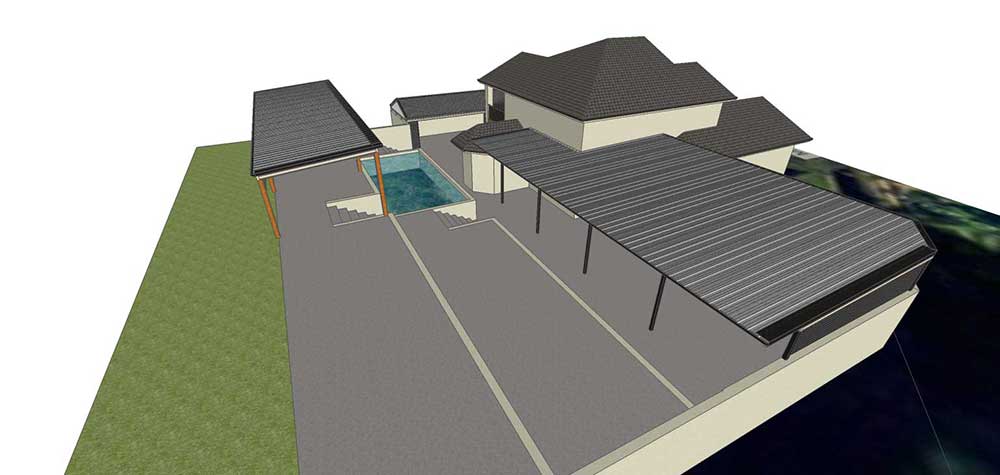 Stolly's Funky Patio design for Kenmore home!
Check out this home in Kenmore that needs a few patios added on. They called Adaptit and Stolly came to the rescue, 3-d style. He designed three areas for them in 3-d that showed them the possibilities for their property long-term. We can't wait to get this project underway. Stay tuned for the final results.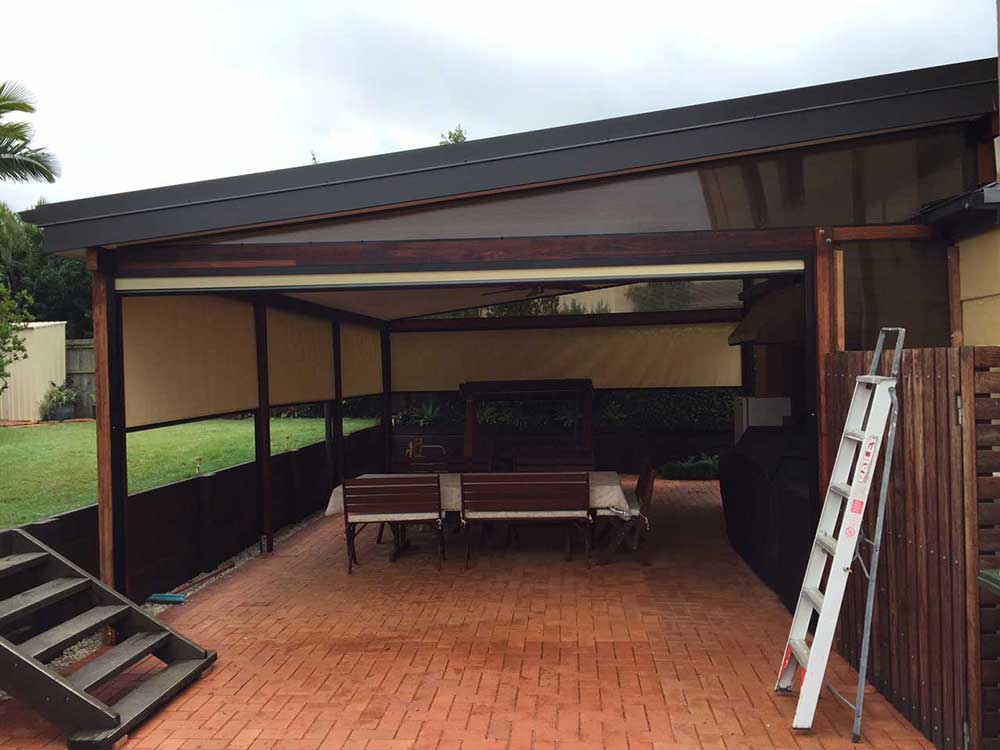 Blinds and Polycarbonate complete this Patio.
This is a house that had issues with their Patio area copping too much inclement weather. The home owners called the Adaptit Boys and gave us a challenge of closing the area in for Good!! Jarred came up with a solution of Blinds on all open sides together with Polycarbonate infills above the angled sides and on the house roof....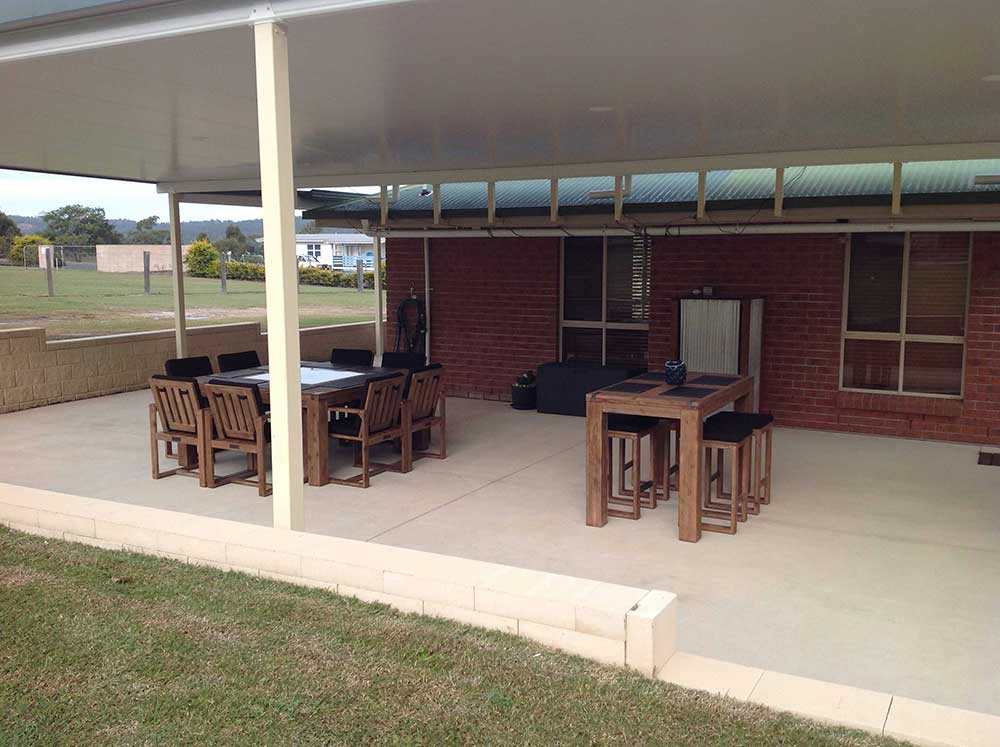 Largest Flyover Roof in Queensland gets Built!!
This is now Queensland's Largest Flyover Insulated Patio. It resides in Laidley, west of Ipswich and the family that helped design it is very excited. The patio has doubled the size of their living space and transformed their home forever. We utilised our custom fascia riser brackets, along with the insulated Cooldek Patio roofing from Stratco. There are LED downlights...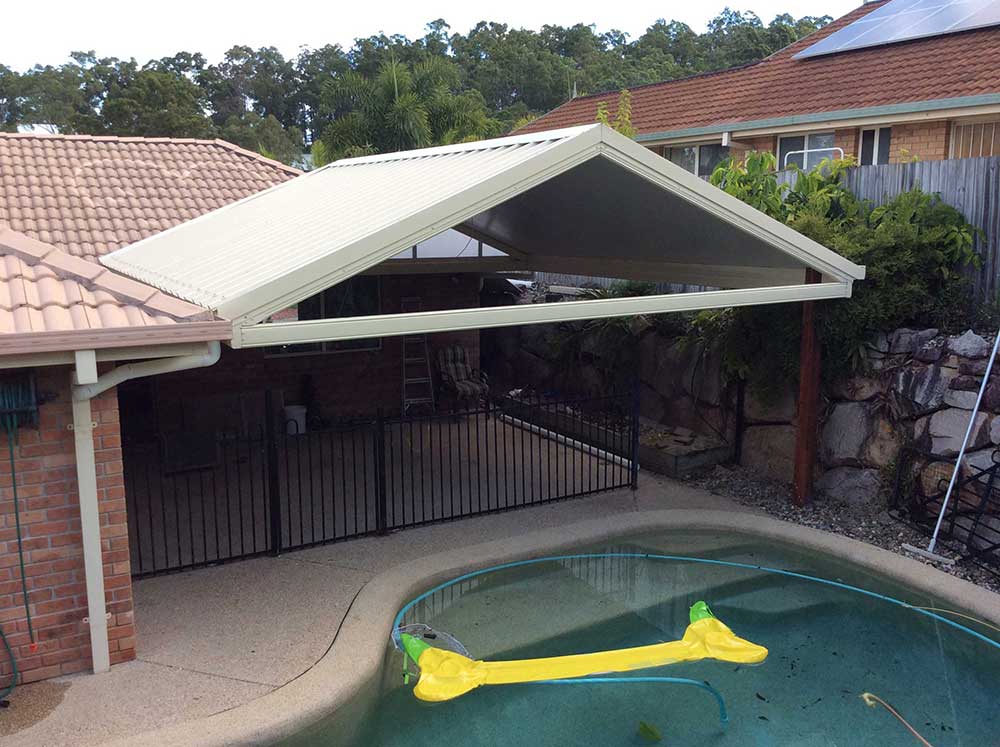 Insulated Gable in Upper Kedron changes a home forever!!
This new Cooldek (insulated roof) gable is in Upper Kedron. The owner wanted to change his house and pool area forever and asked Adaptit to come to the rescue. We began by utilising our customised 3-d design process and created a visual design for the customer to approve of. The space has been maximised and the peaked roof creates that...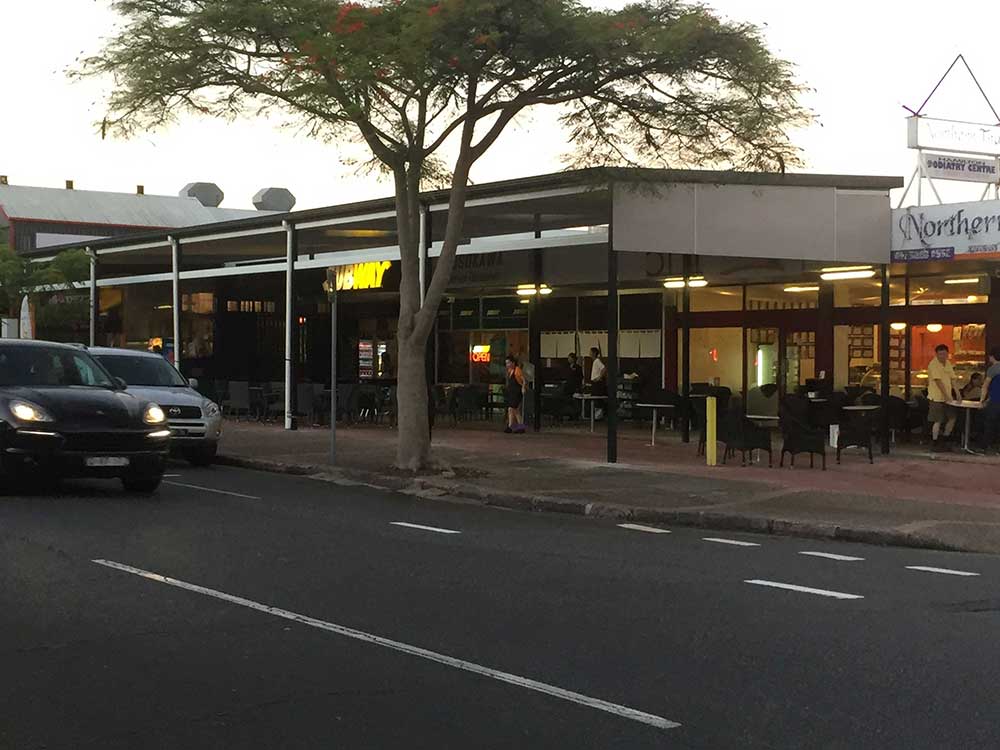 Shops at Racecourse Rd, Hamilton get an Adaptit Makeover!
The shops at Racecourse Rd, Hamilton needed a large Patio Awning to allow their customers some Al Fresco dining. Who do you think they would call. Thats right, Adaptit to the rescue. We 3-d designed an impressive structure of almost 150 square metres that would transform their property forever. Together with Stratco we designed an awning that would increase each...
Brisbane City Views!! Kwila Deck & Insulated Patio Roof in Holland Park
This new Deck and Roof in Holland Park is an amazing example of Adaptit's commitment to quality. The owners of this home are renovating an existing deck that was a long way past it's use-by-date. To do this we demolished the existing deck and replaced it with a new one, 1.5 times larger!! With 180 degree views to our awesome...
Adaptit's designer Chris is a 3-d Patio Expert!!
Adaptit's resident 3-d design expert has been hard at it!! Check out his latest designs created for our clients homes over the last 30 days. Keep watching this site as these projects come to 'Real Life' over the next few months. Awesome work Chris!!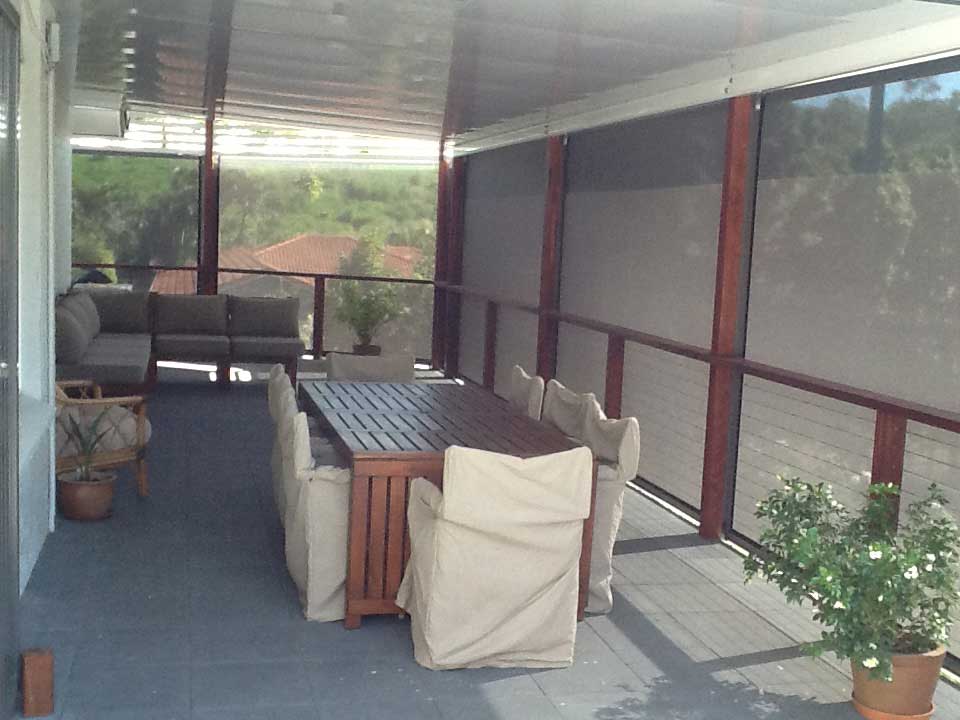 Unique Cooldeck Design in Chermside
Michael and Jennifer decided it was time for an upgrade to their outdoor entertainment area. They contacted Adaptit and were treated to a full 3D custom design experience with Dennis. The new design features a Stratco Cooldeck insulated roof attached to the western side of the house under a gable end, which transitions to a flyover Cooldeck roof on the...