Watch us Design and Build Patio Enclosures
Recent Patio Enclosures Projects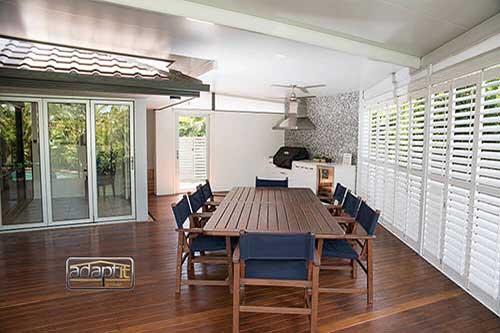 Slatting is a great solution to create privacy, but still keep ventilation. We use either Powdercoated Aluminium, Natural Timber (Kwila) or composite timber products. Click here to see some of our latest designs.
Read More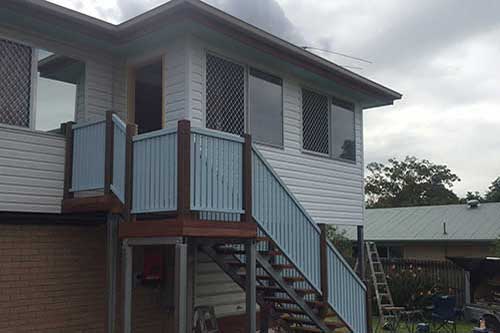 Our expert carpentry team can match any house cladding for your new enclosure. By installing an internal steel or timber frame, our team will be able to source any cladding on the market to ensure the new area looks like it was always there. Click here to see our latest options.
Read More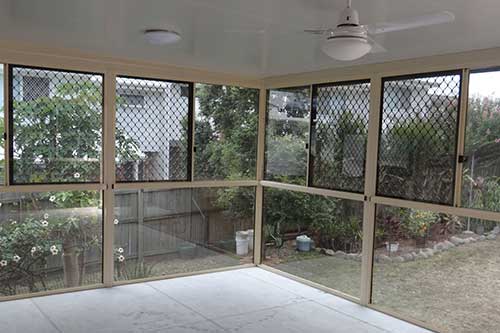 We partner with G James Glass & Aluminium to offer a full range of glass solutions including sliding & double-hung windows, louvres, fixed panels and bifolds. Click here to see our latest designs.
Read More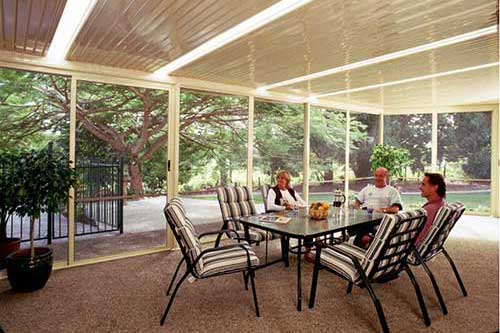 Our specialist glazing team offer a full range of screened enclosures to keep those pesky insects out. We have a range of products available including midgey mesh, patio mesh, paw-proof or standard fiberglass flyscreen. Click here to see our latest projects.
Read More
Patio Enclosures Brisbane
With an amazing new Patio
roofed area in place, and many family parties and bbq's under your belt, you may have encountered several issues.
It may have been too cold after dark for people to stay in the party area without loads of costly heating.
Mosquitoes, flies and other insects may have invaded your gatherings at different times and wreaked havoc!
You are concerned about your valuables left in the open space (TV, Bar, Fridge etc) attracting thieves.
The area is still too hot on the ridiculous summer days when there is no wind/air flow.
The afternoon/morning sun can be blinding.
Enclosing your Patio Roof with walls is a great way to address the 5 issues listed above. Depending on the roofing product utilised for your patio, there are a wide range of wall and patio enclosures options? These options fall into 4 categories. You may mix and match these walling options to find the solution for you.
Screens/Mesh – Screening type material with different grades/thickness. PawProof, Midgey Mesh, Patio Mesh, Crimsafe are all available products. Typically only used on Outback/Single Skin steel patios. This option will NOT keep the temperature out. Insects will be a concern of the past, however, with a new fully screened patio area. Doors are available in sliding and hinged. Minimal obstruction to the outdoor view.
Glass and Aluminium – Sliding Windows, fixed glass panels and Sliding Door combination. This option will allow you to regulate the internal temperature with air-conditioning. You will also need to consider screening the openings (windows or doors) with flyscreens, security screens and the like.
Solid building walls – Solidly constructed framed walls. Our internal frame can be steel or treated timber. The cladding of this frame can be in a multitude of products. Some examples of cladding we have used previously include Corro Steel sheeting, weatherboards, chamferboards, blueboard, fibro, kwila decking and many more. This option can be air-conditioned. Needs to be combined with windows and doors.
Insulated Steel Walls – Commonly known as Dado walling. This is a pre-fabricated panel of 'Flat Coloured Steel – Polystyrene core – Flat Coloured Steel' sandwich panel. Dado comes in a variety of thicknesses, colours, and can be cut to any length. Coloured U channel provides an attachment point to all wall/roof/floor types. This option can be air-conditioned. Needs to be combined with windows and doors.

Call Adaptit Today 1300 423278!! Let's discuss your outdoor living ideas and see what patio enclosures will work for you. Our design can incorporate a combination of the above Wall options with key lock doors (bifolding and sliding) and full manufacturer warranties for peace of mind. Is it time for your outdoor area to be LIVED in 'year-round'?
Here's What Our Happy Customers Have To Say
We were very pleased with the way the new patio works when we hosted a large family gathering at Christmas. The additional area and the bright open structure created a totally different atmosphere - altogether a great result!
Michael and Jennifer
Again the guys are fabulous people for your business, can't say a bad word.
Pat & Phil
We are very pleased with the lights as we feel they finish off a beautiful patio with our new roof and new pavers.
David
I just wanted to say thank you for a brilliant patio, it has been a pleasure dealing with Adaptit group from management through to your staff onsite.
Jason and Hayley
The patio has exceeded our expectations - I can't wait to get the floor tiled, and to do all the finishing touches.
Phoebe and Leon
His workmanship on this job is of a high standard and we are very happy with Adaptit overall.
Mike & Carolyn – Albany Creek
Thanks for all of your help Adaptit Group. Our new patio looks great.
Glenn & Leanne