---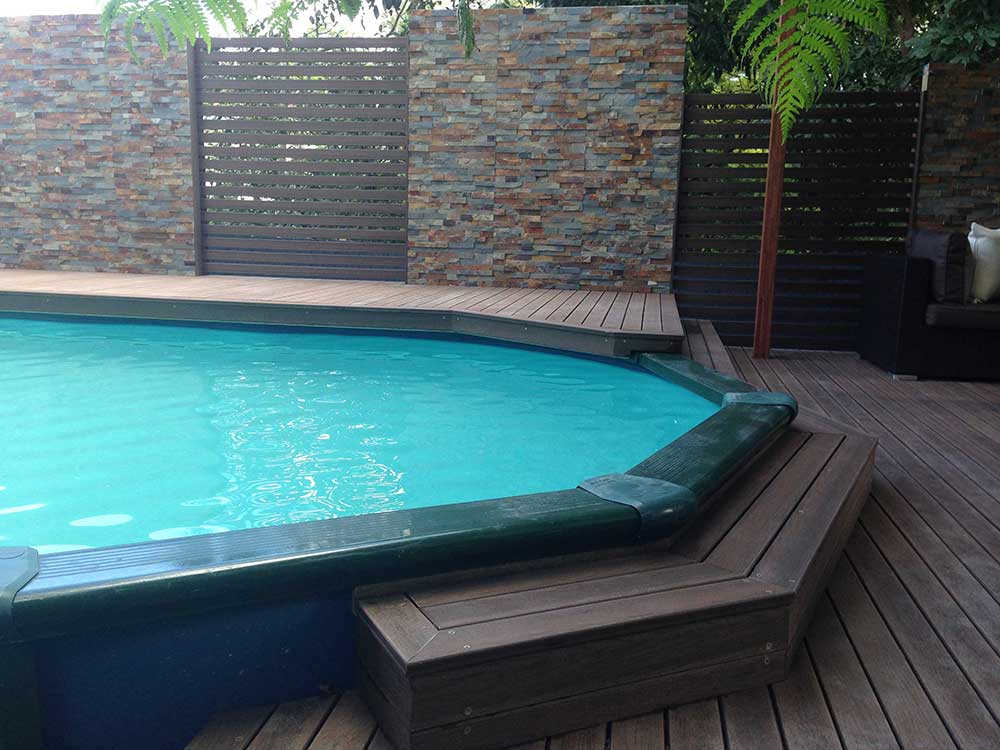 Above Ground Pool gets a Facelift. Amazing Modwood Deck by Adaptit!
---
Amazing Modwood Deck
Want to see one of the most amazing above ground pool transformations ever!! Well look no further. This home in Seventeen Mile Rocks, West of Brisbane, needed a solution to it's problem. The home owner couldn't get into his pool without walking down to the bottom floor of the house, out into the backyard, and climbing a ladder to have a swim. Enter Ryan from Adaptit. He put his brain into overdrive and came up with a solution of some nice wide stairs from the back deck stepping down to a Modwood (composite timber) deck that surrounded the pool. The deck was also going to overhang the pool and hide the coping, creating a wharf/jetty feel in the main section. Wrapping the deck 270 degrees around the pool in 3 different levels was the result of many meetings and 3-d consults with the home-owner. There is a roofed section in the rear middle deck part, for those rainy/drizzly or hot days, where staying undercover is a must. We utilised the Stratco Outback roofing for this section in a 5 degree pitch skillion design. To screen the pool off from the neighbours, a Blueboard panel and Modwood slats feature wall was built. This wall was alternated to accentuate all the features. After we finished, the home-owner installed Stack Stone over the blueboard sections, to finish the deck completely. Black pool fencing was installed to keep the area pool safe, and a glass gate installed at the top of the deck to allow access to the space. Our very happy client can now walk out the back door on the 2nd storey and reach the pool in about 20 steps. This is a far cry from where they were before. Thanks Adaptit!! Construction by Lenny, Steve, Matty and Drewster. Design by Ryan and project managed by GK. Don't forget to let the photos load up…..it's worth it!!